It was a cold, drizzling Sunday. A good day to stay indoors, watch the final round of the Masters and fry up some hot chicken.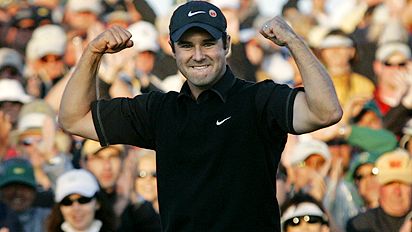 The old saying about driving for show and putting for dough couldn't have been more apt on this day. Tiger Woods just couldn't get the putts to drop and could never make a run at the top of the leaderboard. Nevertheless, with every birdie, the announcers would proclaim Tiger had begun his "charge." It's a testament to his reputation for the spectacular, but it was not to be on this day. Sure, Tiger can't win EVERY event, but it's still folly to bet against him at any SINGLE event, especially a major championship. Trevor Immelman faltered a bit down the stretch but had a tremendous lead which give him just enough wiggle room to wiggle into the coveted green jacket. It was not an awe inspiring performance on the final round, but I think the strong winds had a little something to do with that.
In other sports notes: I noticed Bryant Gumbel stepped down as the play-by-play announcer for
the NFL network. Perhaps he was nudged to step down, In any event, it's a wise move. Gumbel does a great job on Real Sports, but is NOT a "real" play-by-play announcer. In fact he stunk at it. Prior to his hiring by the NFL Network, Gumbel had never done play-by-play, on any level. Maybe now, the NFL network will take a step forward by hiring a big league announcer to go with their big league. In fact, to take a step forward in credibility, they don't need a big name announcer, just an experienced one.