Of all the songs I've written and performed over the years, if there's one for which I'm most known, it's "Waffle House Woman." It's a light-hearted song for sure, but in reality, I really DO love the
Waffle House
and always have. Perhaps it's some sort of reconciliation of my Southern, slightly redneck roots. It's part campy, part funny, and part my love for those dang waffles smothered in butter and syrup at the "Breakfast House of the South." Last week, while working in St. Louis, MO, I ate breakfast at the Waffle House 3 times.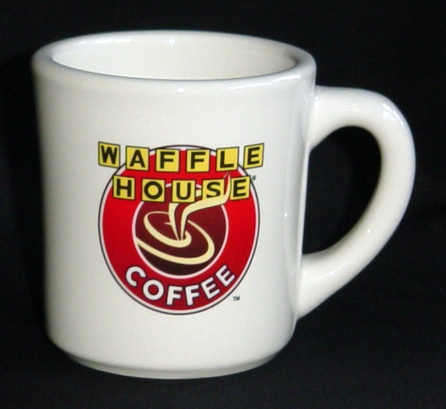 Today, a co-worker of mine gave me a Waffle House Coffee mug because he liked "Waffle House Woman." This was not just ANY Waffle House mug. This one had a history. My friend was one of the National Guardsman sent to the Gulf Coast in the wake of Hurricane Katrina. Part of that time, he spent standing guard over a slab of concrete where the Waffle House in Gulfport, MS used to be.
In the sand near the beach, he found a Waffle House coffee mug or two. The owner said he could keep it. He did, until he decided to give one of them to me. He had no way of knowing how much I've always had a love for both Waffle House, and the Gulf Coast, as Bridget and I traveled to Biloxi, Gulfport and New Orleans many times over the years. That mug means a lot more to me than he thought when he gave it to me.
On the campy side, you can find Waffle House songs on the jukebox at Waffle Houses. You can't find MY Waffle House Woman....YET.....but that would be the ultimate for me.
On Youtube, you can find plenty of Waffle House videos, like the Waffle House Wedding.
Or Bill Hicks' Waffle House bit.
Waffle House is part of Americana. As far as roadside restaurants go, much more so than Cracker Barrel in my opinion. Cracker Barrel was born as a fairly recent imitation of Jackson, TN's Old Country Store (still the best), but Waffle House is an American original. That's why I love my mug, and what it represents.